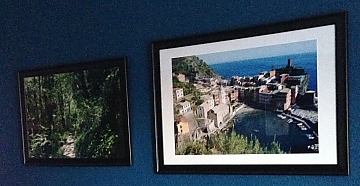 Make over a typical Sacramento house into a family home
Moving into a new Sacramento house and making it into a home can be daunting. In a new article in Housing Sacramento Magazine, Christina Walker shared how to make a house a home. Here are some highlights. Making a house a home is equal parts personalization and actually using and enjoying your new space.
Personalize your houses with fresh paint.  Paint is the cheapest way to renovate or redesign a room. Add personality by finding a way to display some of your collection in every major living area. They individualize your space the most when you consciously design how you want them to look on your unique shelves.
Northern California is full of artist accent walls with artwork unique to the area. My son add photos he took when they went to Italy. He had them blown up to look like museum art and the effect is amazing.  Adding very personal images makes a standard Sacramento house a home in no time.
Another change that impacts the feel of the home is lighting. If the kitchen is simply too dim, install new track or under-cabinet lights. Play around with lights until it feels right for your home. Floor lights, table lamps, spot lights and even the Sacramento sun light can all be used to create that home feel.
Changing that typical Sacramento house into a home is a personal journey. But without a doubt it is worth the time and effort. Just the word says it all, home. Make your very own Sacramento Home Sweet Home.
Dan Parisi
Coffee Real Estate

916 481 8106
2800 Arden Way
Sacramento, CA 95825
Real Estate agent
DRE 01923081