Large family Home
up to 16 bedrooms
This large family property has six master suites in the main building. Each master suite includes a bedroom, living area and bathroom. Or possibly they can be made into two bedrooms with a shared bathroom. Some bathrooms will be Jack and Jill style (two doors) and others will be a shared bathroom (one door). Each bedroom could have two people.
The six master suites can be mixed and matched. You can have 3 master suites for three couples. Then you can have 3 two bedroom shared bathroom creating 6 bedrooms. The suites range from 380-440 square feet each. Each suite has a bedroom, living room, and its own private ADA bathroom with a roll-in Swanstone shower, travertine floors, handmade artisan exposed aggregate concrete counter-tops, and crown molding.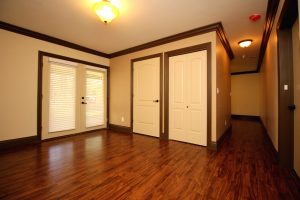 There is also a master bedroom in addition to the 6 master suites. Additionally the second building has a master bedroom and two other bedrooms. That means the property can be configured for 16 bedrooms. The main home is 6534 square feet (sf) and the second home is1484sf for a total of 8018sf of living area.
There is a professional sized kitchen to create the meals. There is a large dining room to have family meals. In the main home there is a large laundry room. There are two bonus rooms to create game rooms, craft rooms, offices and more. There are two public bathrooms. There is also a walk-in jetted and heated tub in its own private room.
The formal dining room has coffered ceilings, molding details, and serving station with sink and under cabinet refrigerator. The large living room has an impressive lighted flagstone fire place wall, exposed aggregate mantel and hearth, wall sconces, chandelier, and two exterior French doors.
There is a 230sf nicely finished out building with a half bath. This building can be used as a great office or school room. There is also another large outbuilding 756sf great for storage and/or workshop.
The home has rich grounds with two water features in the Sierra foothill setting. The two acre parcel is irrigated and landscaped to capture the essence and serenity of the wilderness. There are mature Dogwoods, Redwood, Cedar, Maple, and fruit trees. A beautiful courtyard is accessible directly from bedrooms or general exits.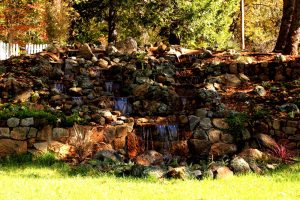 The second single family home on the property has been remodeled. It has its own kitchen, dining room, family room and garage. There is a master bedroom and bathroom. Plus two nice sized bedrooms.
Adaptive home design is important to many families. The main home has many full access features. It has ramps into the main home. As well as roll in showers in many of the bedroom suites. In fact the home is ADA compliant. It has the wider doors and hallways. The bathrooms are built to ADA standards.
The property is on two acres of beautiful gold country land. There are two water features and many areas for people to gather or get away. The main home has a covered front porch in addition to covered walk ways which are great for outside living.
The property is next to Condon Park. The Park is 80 acres. There are many walking trails and outdoor activities. The property is located on the western side of the park. The park has disc golf, skateboarding, shooting baskets, "Dogs Run Free" facility and two little league fields. There is a maze of trails in the wooded western part of the park good for runners, walkers and bike riders.
Check out the link for info about Condon Park info
This property is a wonderful multigenerational home. The home has ample public and private spaces for the whole family. The private suites offer each family group or generation a way to create the space in which they feel most comfortable. The two homes on the property can create even more living separation then any traditional home. The property is ideal for both independent and corporate living. Read more about Multigenerational Homes.
The Grass Valley property can be the home to many unique family arrangements. A Seraglio is a place where wives and concubines live. A Zenana is a house in which the women of the family live. The literal meaning of the word zenana is "of the women" or "pertaining to women". Some Mormon sects and other religions accept polygamy and other non-traditional family arrangements.
As a society we are accepting of many life styles. It is always a good idea to check the local zoning and laws to verify if the government is as accepting as the society. Occupancy issues should also be verified with local government.
The buyer/s is cautioned not to solely rely on or make inferences from any information provided by seller or seller's agent regarding suitability or eligibility for any uses and should conduct their own independent investigation.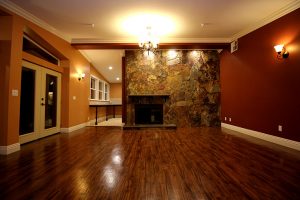 Large family homes come in many different styles and sizes. The two homes on one property in Grass Valley California is one of the most unique large family homes. The six master suites plus two standard master bedrooms and the other traditional bedrooms allow for many different home layouts. This home has the flexibility to meet many special family needs.
Check out the website to see more features:
Large Family Home photos and info
Check out the home video to get a feel for the layout of the property:
If you have any questions, you can use this contact form or Call the office 916 481 8106 or email me [email protected] Also if you want to set a time to see the Large Family Home for sale.