Home Ownership Perks
Home ownership has financial advantages. One of the biggest and most recognizable homeowner perk is the mortgage interest tax deduction. This supports home ownership with a tax advantage. Home ownership helps build community and a tax base. Read more at: https://housingsacramento.com/blog/real-estate/homeownership-benefits
In addition, assuming the property meets the requirements, property taxes paid for the main resident home and a vacation home are deductible for income tax purposes.
Also, as long the home owner occupied the house as a primary residence for two of the past five years, the capital gain up to $250,000 for an individual or $500,000 in taxes for a married couple can be excluded as profit from capital gains of the property sale.
Homeownership generally builds home equity. The monthly mortgage payment includes a part of the principle in the payment. This effectively reduces the total amount you owe each and every month payment is made. This increases the amount of home that you actually own, which is called equity.
Home ownership implies basically that the owner has free rein in the look and feel of the home. Owning the home means the ability to change the aesthetics to almost any personal taste.  Many times this adds value to the property, in addition to the personal enjoyment.
The info chart of the financial perks of home ownership illustrates some of the major benefits of home ownership.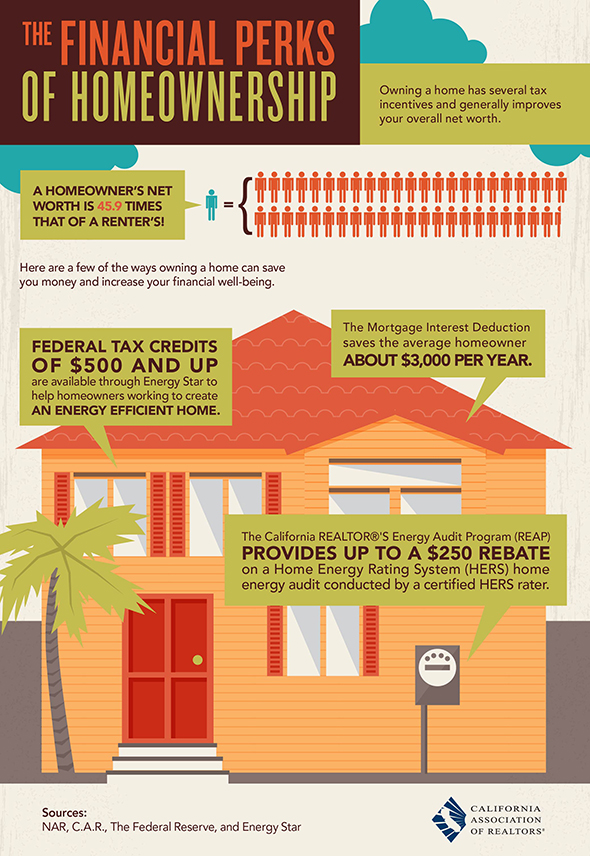 Dan Parisi
Coffee Real Estate – Sacramento & Foothills
916 481 8106
2800 Arden Way
Sacramento, CA 95825
Realtor Real Estate agent
DRE 01923081