20 questions for gold country horse properties
20 questions that come up when looking at horse property in the northern California foothills gold country.
Are the stalls watering systems in good condition?
What is the condition of the stall gates?
Is there a good tack-up area for the horses?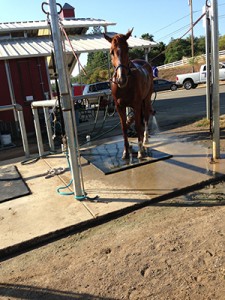 Is there a good, ventilated area for storing hay and shavings?
Is there a tack room, wash rack, good footing in the stalls and turn-out paddocks?
How will you dispose of the manure?
How will you control the summer fly situation?
Is there irrigation available for the pastures?
Is there enough pasture land to have dry pastures too?
Does the pasture consist of spring weeds or planted pasture grasses?
Are there any poisonous weeds or trees already existing in the pasture areas?
Are there any run-in shelters in the pastures in case of down pours or excessive heat?
Where are the nearest horse friendly trails?
What zoning does this property permit?
How many animals can be accommodated on a property?
What are my water rights?
Does the property have access to enough water quality and of good quantity sufficient for the need?
Will the veterinarian and farrier be able to get there if it gets snowed in during the winter?
Is the property horse trailer friendly?
What is the well for volume and quality?
For more information on horse property check list
I know you have a 1000 more questions. Great contact Dan Parisi northern California foothills gold country Coffee real estate agent.