Steps to make your house a home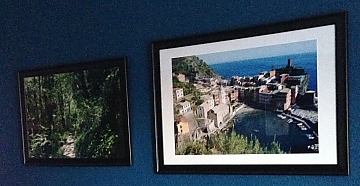 Making a house a home is equal parts personalization and actually using and enjoying your new space. Mix and match these 15 ways to make your new house feel more like home in no time.

Personalize the Space

1. Paint
Paint is the cheapest way to renovate or redesign a room. And the good news is, walls are only the beginning. You could paint just one wall in a room to create a focus area, or you might consider painting the front door, porch ceiling, garage door, shutters and exterior trim, or baseboards and door frames inside.

2. Show off your stuff
Whatever you collect--figurines, books, dvds, music--find a way to display some of your collection in every major living area. This works especially well when you have stories to tell for each exotic statue or antique collectible. And your books, movies, and music share your personal style and taste.

3. Style your shelves
Just having your collectibles out and about isn't enough. They personalize your space the most when you consciously design how you want them to look on your shelves. A good rule of thumb is to feature both books and collectibles on the same shelf to avoid the monotony of a row of books or a bunch of figurines.

4. Hang up some art
Accent those bare walls with artwork unique to your family. They don't all have to be professional, either. Candid shots and travel or vacation photos help tell the story of your family, while paintings and prints illustrate your style. Even posters, maps, puzzles, and shadow boxes make excellent artwork to warm up a space.

5. Change up the lighting
If the kitchen is simply too dim, install new track or under-cabinet lights. If the porch light looks ancient, update the light cover to something you'll love. If the ceiling fan detracts from the formal look you want, change it out for a nice chandelier. If the lighting isn't right but you're not sure what to do, play around with floor and table lamps until you find the right one. Light adds warmth to a space and makes it feel inviting.

6. Plant some flowers
Personalizing a new home is as much about the yard as the house, and flowers make every house look better. You can plant a simple row of your favorite flowers in front of the porch, add a new tree or bush, or redesign the entire yard. Don't forget to cut a few flowers and put them in vases to display inside, too.

7. Plant a vegetable garden
Veggies have longer growing seasons than flowers, so planting a vegetable garden is a sign that you're here to stay. Plus, almost nothing is as satisfying as picking a fresh salad from your own backyard.

8. Put up custom window treatments
Bare windows make a house seem uninhabited and unloved. Now's the time to install the plantation blinds or roman shades you've always wanted. You can also play around with valances, swags, cafe curtains, and drapes to see what styles fit each room and your privacy needs the best. If you're not buying new window treatments, at least make sure the current blinds and drapes are really clean.

Enjoy Your New Home

9. Add custom organization
No house will perfectly match your needs until you add some custom organization. This can be as simple as hanging a storage and towel rack in the bathroom or as complex as installing new cupboards in kitchen. You can purchase a lot of custom organization products, like bathroom organizers, and there's a lot you can do yourself pretty easily with supplies from a craft or dollar store.

10. Throw a party
Nothing says "We live here" like hosting a party! Invite people over for a bridal shower, the Superbowl, or a simple dinner party or game night.

11. Design rooms around favorite furniture
If you love a particular piece of furniture, make everything else in the room work around it. The rocking chair your mother gave you becomes the seat of honor, or the coffee table you made yourself becomes the focal point of the room.

12. Buy outdoor furniture
Like gardening, outdoor furniture makes your yard a haven. Consider a table, chairs, and umbrella for impromptu summer picnics, or a porch swing for sipping your favorite drink on warm evenings.

13. Update old hardware
Like painting, changing out old drawer pulls, cupboard handles, and doorknobs is a cheap and effective way to update your new house and make it feel more like your home.

14. Keep blankets or logs handy
If you move in the fall or winter, keeping blankets handy or installing a fireplace makes a home warm and cozy. Handmade quilts and blankets can be beautiful displays, and fireplace mantles are great for decorating. For summer, display light blankets and have lots of cold lemonade or iced tea in the fridge.

15. Make bedrooms special
In the midst of moving and stressful day-to-day life, bedrooms should a place of relaxation. Other than the kitchen, they are the first rooms that should be unpacked and organized. To make them special, consider a chandelier, candles, or canopy in the master, or fun additions like wall decals in kids' rooms.
HousingSacramento Magazine
Look for Angelo Parisi on our next cover story Auburn a great place to live Making your house a home
Real Estate Loans
For more information about mortgage prequalification check out HousingSacramento Loan pages.
Mortgage Prequalification
Mortgage prequalification will give you the ball park range of home loan you can receive therefore helping you target the range of houses to search. Click to start a fast and easy prequalification application.