Horses' Honor

Horses' Honor is a non-profit organization dedicated to assisting horses in need. They specialize in elder horses and keep them for life. They help provides sanctuary in a safe, natural environment to horses that would otherwise face likely slaughter or unnecessary euthanasia. Since 1999, Horses' Honor has been a sanctuary for horses rescued from neglect, abuse, or shipment to slaughter.
Horses' Honor is a non-proft 501(c)3 organization. All proceeds go to the feeding and care of the rescued horses.

You can help the horses at Horses' Honor in several ways:
Donate used or new tack and horse supplies to our Tack Store or for our Annual Tack Sale.
Monetary donations gratefully accepted!
Mailing Address:
PO Box 7204
Auburn, CA 95604
or
PO Box 30072
Walnut Creek, CA 94598-9072
Phone: 530-305-9678 or 916-645-1630
Neigh Savers Foundation
Our Mission
Neigh Savers Foundation was incorporated in July 2007 as a 501(c)(3) non-profit corporation and has been certified by the IRS as a tax exempt charity. Any donations made to Neigh Savers are fully tax deductible. Neigh Savers provides California's Thoroughbreds with a chance at a second career or a well deserved retirement when their racing careers have come to an end due to soundness issues, age or lack of success at the track.

Neigh Savers assists in making a "Thoroughbred Connection" that places a deserving Thoroughbred into another life. Through our network we seek to find Thoroughbreds new careers in dressage, eventing, pleasure riding, trail riding or as therapy horses. If not suitable for any new career we try to find loving homes where a horse can simply retire as a pasture ornament or serve as companion equines.


Neigh Savers Foundation, Inc.
1547 Palos Verdes Mall, Suite 259
Walnut Creek, CA 94597-2228
The Grace Foundation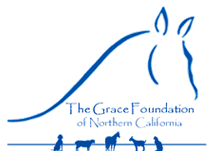 Here at The Grace Foundation our mission is to protect, care for and heal these two important groups:
• Children
• Abused and Neglected Animals
Since its founding in 2004, The Grace Foundation has been dedicated to saving the lives of horses and other animals. Grace provides critical care and rehabilitation for abused and neglected horses, livestock, dogs, and other animals.
Many of these animals are then utilized for equine-assisted learning and therapeutic programs for youth and children. Since its inception, The Grace Foundation has helped thousands of kids who are at-risk or have suffered from abuse and neglect themselves.

The Grace Foundation of Northern California
5800 Latigo Ln.
El Dorado Hills, CA 95762
Safe Haven Horse Rescue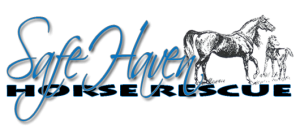 We are a group of people who care about horses and their quality of life. As a non-profit, no kill, volunteer organization,
we can improve their lives by providing a safe environment and good nutrition and teaching others to do as well.
We offer the horses a life where there is trust and hope. Through the efforts of Safe Haven Horse Rescue and Sanctuary,
we care for the equine, restoring health and well being and when possible placing them in loving, caring homes.


History & Background
Safe Haven Horse Rescue was established in January of 1995 by president and founder, Linda Richards.

In 2000, Safe Haven became a non-profit organization. We run solely by hard working volunteers and are funded by donations,
adoptions and fundraisers. All proceeds that are raised go directly to the care of the horses and maintanence of the ranch.
There are no paid empolyees, just volunteers with the same compassion as Linda.

Today, not only feeding and caring for approximately 60 horses at the ranch, Safe Haven has rescued hundreds of horses from many different backgrounds and experiences, such as neglect, starvation, abandonment, kill pens and the crisis of the economy. Giving them all a second chance at life through adoption, sponsorship, a fostering program and permanent sanctuary.

Safe Haven provides opportunities for various volunteer work for caring people of all ages,
from ranch work and hands on work with the horses, to fundraising and grant writing.
We also have opportunities to love a rescued horse through our sponsorship program, riding lessons and summer camps.
3950 West Anderson Dr
Cottonwood, California 96022
Mailing Address:
Safe Haven Horse Rescue
P.O. Box 1788
Cottonwood, CA 96022