Horse Property Checklist


Local focus northern California foothills or gold country

Horse property is as much about a life style as it is about a place to live. There are many things to consider when buying a property for you and your horses.

Add to the questions about a home. How many bedrooms? How many bathrooms? What features do I want the kitchen to have? Do I need a home office? Check out the new house check list for more ideas.
Horse property has a whole list of its own. Where are the nearest horse friendly trails? What zoning does this property permit? How many animals can be accommodated on a property? What are my water rights? Does the property have access to enough water quality and of good quantity sufficient for the need?

Will my neighbors be troubled with fly and odor nuisances? How will hay and supplies delivery be handled? What will be done with manure? Is the road traversable by horse trailers? Is the property able to bring in horses as boarders to help pay the bills? What are the rules about building arenas? How much will it cost to update the barn? How much will it cost to build a new barn?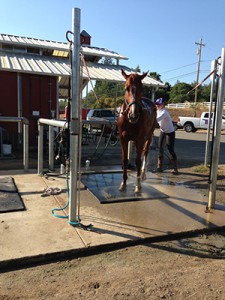 Location is important to horse property in gold country. If the property is off the beaten path, then it will take longer to get to work on time. Will the veterinarian and farrier be able to get there if it gets snowed in during the winter? Is the property horse trailer friendly? Does it have narrow and winding roads? Selecting location is also important to trail riders who want easy access to trails.

The natural features of the horse property can have a big impact upon the usefulness of the parcel. Some northern California foothill horse properties have steep mountainsides sections. Many times this does not make for good horse pasture.

Pay attention to where low spots or other troublesome characteristics may be on your prospective horse property. Areas that are largely covered with rocks with spaces in-between can be a real hazard for horses.

Examine potential horse property for land prone to flooding from water sources. Low-lying areas that catch the rain and run off could be dry for half the year and a lake the other half.
Many rural properties don't have good wells. Check the well for volume and quality. Learn of all water sources that the property has access too. Find out about the water rights and contracts before owning the property.

The pastures could look green in northern California foothill horse properties. But find out why they are green? Often, unmaintained pastures look green and lush from a distance, but on closer inspection are full of undesirable weeds. There can be noxious plants. One example is the beautiful red oak trees which are lovely to look at, but their leaves are poisonous to horses.

While owning a large horse property is very tempting, often it comes with an upkeep cost. The larger the property, the more upkeep work there is. Are you prepared to build or repair outbuildings? Examine any existing fences and buildings for safety and work needed to bring them up to your standard. Check maintains issues: things like water pipes, electrical, weeds, feeding areas, stalls and the general condition of the property. Take note of the state of roofs.

Here are few more questions that come up when looking at horse property in the northern California foothills gold country. Are the stalls watering systems in good condition? What is the condition of the stall gates? Is there a good tack-up area for the horses? Is there a good, ventilated area for storing hay and shavings? Is there a tack room, wash rack, good footing in the stalls and turn-out paddocks? How will you dispose of the manure? How will you control the summer fly situation? Is there irrigation available for the pastures? Is there enough pasture land to have dry pastures too? Does the pasture consist of spring weeds or planted pasture grasses? Are there any poisonous weeds or trees already existing in the pasture areas? Are there any run-in shelters in the pastures in case of down pours or excessive heat?

In many ways this list of horse property checklist is only a starting place. Each person has their own needs and wants that make for the perfect northern California foothills horse property. The gold country offers a rich selection of horse properties. Some are hilly and filled with tress others are open areas that turn that golden brown which is the mark of the Sacramento valley. What works best for each person is the ideal horse property for them.

I hope if you are looking for horse property in northern California you contact me to assist you in your search. Coffee Real Estate team approach of using many experts to make the real estate transaction go smoothly can help you reach your goal to find the best horse property for you. If you are looking to sell your horse property our team will find all the value of your horse property when selling. Contact us at 916 481 8106 or use the form below to email us.


For more information on Coffee Real Estate agents advantage when looking for horse property.