Take control of your art
"The days of needing a record label, recording studio or managers are becoming more and more obsolete thanks to technology, audio recording equipment and social media," says Joe Archie, a song writer and Grammy nominated music producer.
Creating your own Sacramento home recording studio can give you control. When you want to record, how you want to sound and the pace of the project are all under your power.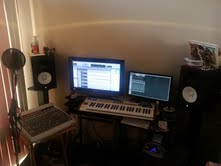 The ability to record a full album, and promote yourself is as simple as having the basic set up of a computer, microphone, head phones and the right recording software. Home studios are more and more apart of indie bands and artist. This gives them more control in their creative process while saving money.
The "right" equipment is crucial in this process or you will still end up in an outside studio getting things "fixed," which can be very costly. Steven Covey may have been a business guy but his saying "start with the end in mind" is key when setting up your home recording studio.
If you know you have a large group of people in your songs all at the same time, you must think how to make that work. How much space is needed? How to keep the sound where you want it?
If you want special sound effects, learn how to create it. It may be just software. Or it could be an instrument that has special needs. In other words, your home recording is custom built for your unique art.
When building your home recording studio in Sacramento, preplan as much as possible. Ask fellow artists how they overcame the issues you are facing. Know your budget and make the hard choices before you start ordering the equipment. You probably don't what to spend a thousand dollars on a microphone and have only $200 for the computer.
All in all, there are pros and cons to moving towards having your own equipment and home studio setup, do your research on what will be the best for your investment dollars.
 Joe Archie guest blogger, song writer, Grammy nominated music producer