Sacramento home purchase ripples through all northern California's economy
The ripple effect is a fitting illustration for the impact of Sacramento home ownership on the economy. The positive benefits can be felt throughout the local economy and then reaching out through the whole economy.
The result of California home ownership has a very large impact in each neighborhood, town, city, state and through-out the country. This is because home ownership creates jobs like remodeling, landscaping, lawn maintenance, and all the other industries that are connected with owning a home.
California Association of Realtors found that each owner generates as much as $60,000 of economic activity every year in local communities.
The burst of spending of a recently purchased home can start with something as simple as paint. This leads to other spending like furniture to match the paint.  This leads to other housing redesigns like drapes, artwork for the walls and maybe new carpet. The ripple effect adds more spending power to everyone and every business along the way.
One way to look at it is one new job is created with all this economic activity. The new job means a new paycheck which means more spending. The cycle repeats and builds.
The positive ripple effect of a Sacramento home purchase is felt though out the whole Northern California community.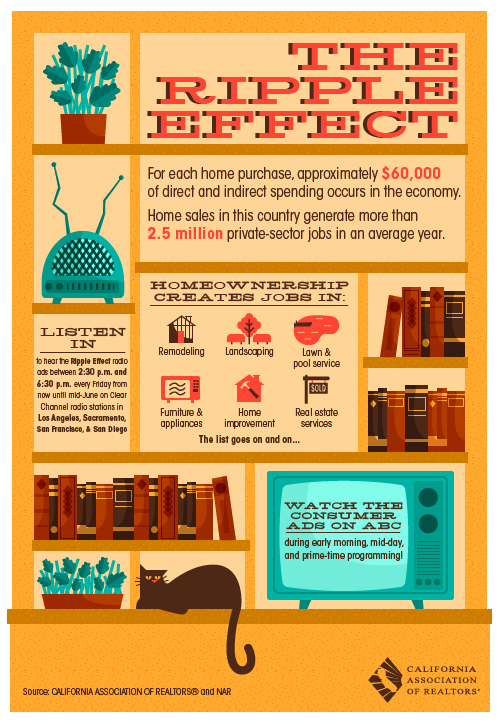 Dan Parisi
Coffee Real Estate – Sacramento & Foothills
916 481 8106
2800 Arden Way
Sacramento, CA 95825
Realtor Real Estate agent & Mortgage expert
DRE 01923081 NMLS 997987