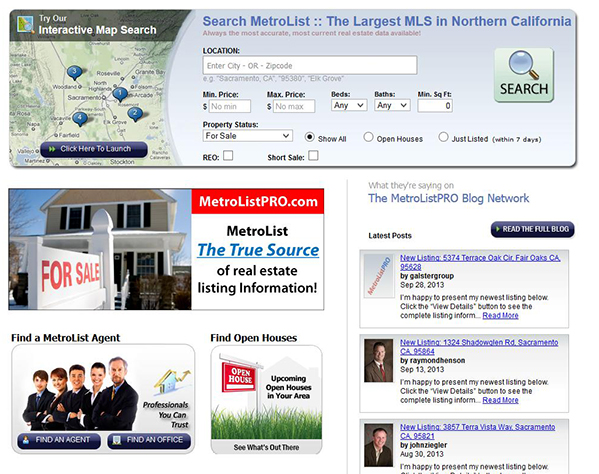 What is the MLS?
The acronym "M.L.S." stands for Multiple Listing Service. The MLS is a database of properties available for sale and represented by a real estate agent in a given area. The MLS in northern California area including Sacramento is MetroList.
HousingSacramento.com list of properties for sale are directly inputted by the Sacramento and Northern California MLS metrolist. That means the properties listed on HousingSacramento.com are accurate and up to date.
The MLS creates the framework by which real estate agents agree to cooperate and compensate one another. There is also a high level of supervision by the system administrators, which provides accuracy and professionalism, reducing fraud.
The most important tool for people looking to buy a home is the local MLS. The MLS has the most up to date list of properties. This saves a lot of time and hope looking at homes that have already been sold.
Using house search sites like Zillow, Trulia, and Realtor.com the consumer is able to find houses for sale without a personal realtor. Many of these sites get their information second hand.  Read more at: https://housingsacramento.com/blog/real-estate/accurate-sacramento-home-sale-listings
The key thing for home buyers and sellers to know is that these sites don't always have the most up-to-date or accurate information.
Another benefit of the MLS system is that they contain hundreds of features about a  property. The property features are set by real estate professionals whereas public real estate websites contain only a small section of the property's information.
The local MLS is the best way to get information about properties for sale in your area. Coffee Real Estate of Sacramento and Gold Country uses the MLS information to give property search data.