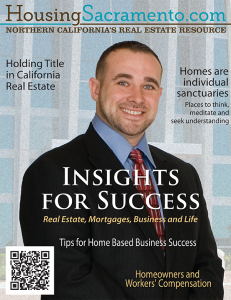 Housing Sacramento Magazine
 Kyle Darrow
Kyle Darrow CEO of CLA Reality and California Loan Associates share his insight into real estate.
As a real estate professional, you've handled transactions across northern California's post real estate bubble, how do you see the real estate market going forward?
Inventory is extremely low right now, but so are interest rates.  This creates a unique situation that is supporting housing prices and even causing them to increase.  Many homes are selling in 30 days or less, and Sacramento is in the top ranks for properties getting offers within 24 hours of coming onto the market.
What is the most important thing someone can do when looking to buy or sell a home?
The most important thing a person should look for when considering buying or selling a home is a reputable, experienced real estate agent.  A good agent will help you through the sometimes difficult aspects of a real estate transaction.
Check out Dan Parisi Bio
The old real estate adages "What are the three most important aspects of real estate? location, location, location."  How do you explain this to your clients?
The location of your property is one of the most important things to consider because of many factors.  Some of these are schools, shopping, crime rate, access to freeways, parks, public services, etc.  Sometimes it's important to an individual to have a specific location in a neighborhood itself.  Some people prefer cul de sacs, some like to live on a corner lot, etc.
What should a first time real estate investor look for in an investment residential property?
There are a few important things to consider if someone is considering purchasing investment real estate for the first time.  If they are looking for a property to buy, rehab and sell, they should look for the most amount of potential equity.  This will allow them room to make repairs to the property and see the biggest return on their investment.  If they want to buy and hold, they should look for the highest possible cash flow, and maybe even existing tenants.  Cash flow is the difference between their monthly payment, plus other operating costs, and the amount of rent that they can collect.
Read full article: Housing Sacramento Magazine cover story Kyle Darrow