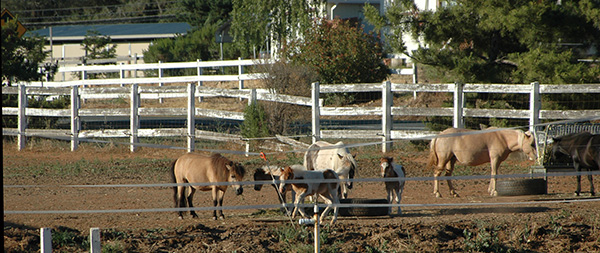 Fences Add Value and Safety to Horse Properties
There are many types of fences for horse property. The fence that keeps your horse safe and secure is a very valuable part of the horse property. All horse fencing should be around five feet or taller. One of the most iconic fencing types is the three tiered white fencing that is a classic of horse property. This type of fence is usual a sturdy wood fence.
This nice wood fence looks great and is a safe way to keep your special horse secure. This fence however, requires a lot of maintenance. It must be painted regularly and when the posts rot, it must be replaced quickly, otherwise it becomes a hazard to the horses and people. Nails also tend to come loose. You can also buy vinyl fencing which is a plastic version of the wood white fence. This has no nails and there is no need of paint. It stays beautiful and white from the day you get until that day you take it down. Horses tend to figure out pretty quickly that this fence is fragile and they can push on it and break it, leaving with a chance to get into trouble.
The metal pipe fencing is a very sturdy fencing that doesn't need much maintenance and lasts for a very long time. It tends to be sturdy and is very versatile in where and how it is used. This fence is relatively light and can be locked together in a simple square or span the length of the pasture. It can be kind of pricey and since it comes in short lengths you have to have many sections to make even a small round pen. They will last for years on end and you can move them with ease to create a small foal pasture, then back again when they are grown.
Another fence that is very useful is horse no-climb. This fence is made up of small metal strands that are welded in a pattern that is about three by two inch rectangles. This fence is held up by fence posts and is very useful when spanning long stretches of pasture. The small size of the rectangles keep horses from getting their hooves stuck in it. This is a more permanent type of fencing compared to the piping. This type of fence is very sturdy and doesn't need a lot of maintenance.
There are many many types of horse fencing. All have their ups and downs. There are also wide varieties of electric options that you can add to existing fences or rely just on them. One fence that should never be used for horses is barbed wire. This fence works great for cattle. It should not be used for horses because it is hard to see and horses get into great running races and don't look to see what is in front of them. They can run right into them. Horse hide is much thinner then cow's and they will get cut easily. Horses love to stick their heads through to get the grass on the other side of the fence. They can become tangled easily in it and you will come out and find an injured, tangled up horse that requires medical assistance.
Horses are very special animals that need proper fencing. There are many great choices to choose from. Make sure and choose wisely the fence that best suits your needs.
For more information on horse property  out  The New Horse EPA Equine Property Academy
For more information about horse properties contact Dan Parisi Coffee Real Estate professional agent