Short term mortgages offer a 3 to 1 benefit advantage
The 30 year mortgage term is a staple of the real estate loan market. Short term mortgages present a three to one benefit advantage. What are the benefits? What is the drawback? Is a short term mortgage right for you?
The first benefit of a short term mortgage is the number of payments. The traditional 30 year mortgage has 360 monthly payments. A 15 year mortgage by comparison has only 180 monthly payments. Just multiply the 30 year monthly payment by 360 and that number is the total cost of the loan. Then multiply the 15 year monthly payment by 180 and that number is the total cost of the shorter term loan. Generally there is a big difference in the two numbers with an over whelming savings in favor of the shorter term mortgage.
The next benefit is the buildup of equity is faster in the shorter term mortgage. In the course of the first five years of a standard thirty year mortgage the buildup of equity is approximately 7%. That leaves 93% of the original loan value of the mortgage. At the five year mark on a fifteen year mortgage the pay down of the loan original value is about 20%. In this scenario there is only 80% of the face value of the mortgage left.
The third benefit of a shorter term mortgage is the amount of interest saved. The amount of interest paid to the lender is amazingly less in a shorter term mortgage. Just image how much less interest is saved in 15 years? Then add in the faster pay down of the loan amount and the number grows dramatically.
The one big draw back to a shorter term mortgage is the monthly payment. It is almost certainly more than the 30 year standard mortgage. The monthly payment will not be twice as big as the 30 year mortgage. It can be as low as 10% more to about 35% more. Here is a BIG BUT, each loan situation is different. You must have your credit, loan amount and current situation evaluated by a professional mortgage expert to get the correct information.
ExpressRealEstateLoan.com will do a free comparison of your current mortgage is see how much savings a short term mortgage can save you.
By the way, many lenders are offering lower interest rates for shorter term mortgages. This could mean that your payment may be the same as your current 30 year mortgage rate. It's FREE, check it out.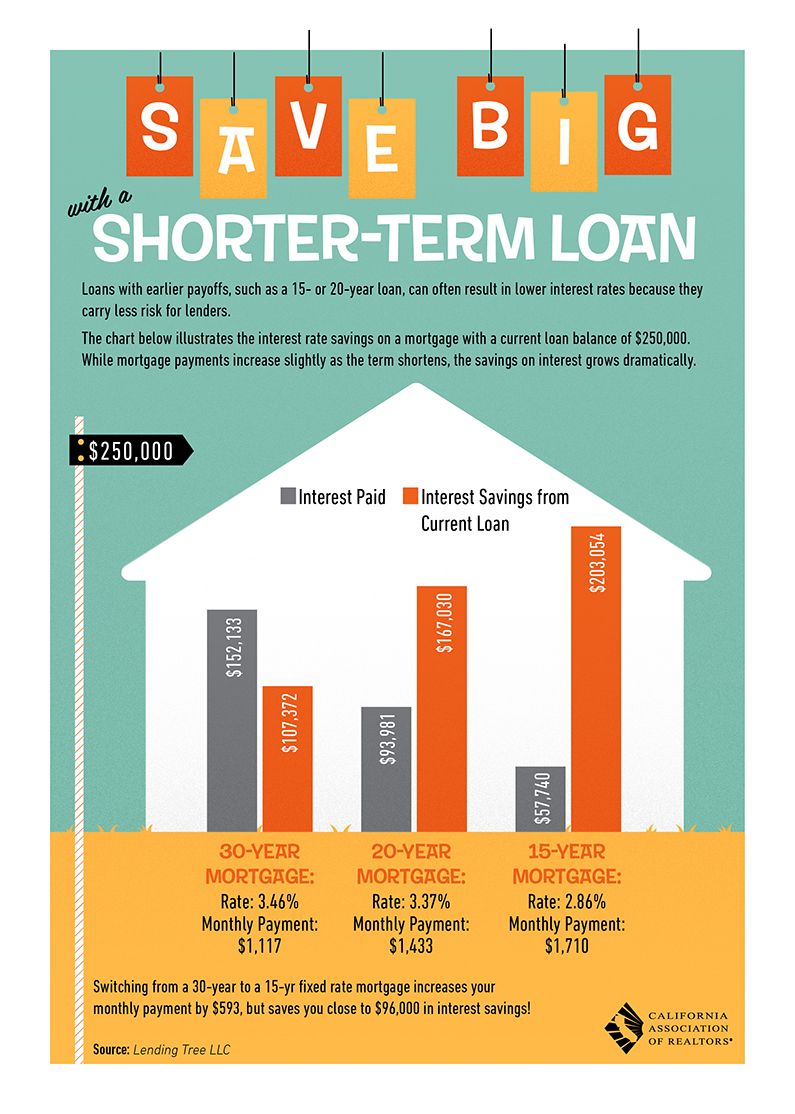 Dan Parisi
Coffee Real Estate – Sacramento & Foothills
916 481 8106
2800 Arden Way
Sacramento, CA 95825
Real Estate agent & Mortgage expert
DRE 01923081 NMLS 997987
Find us on Google+