Megan's Law and looking for a home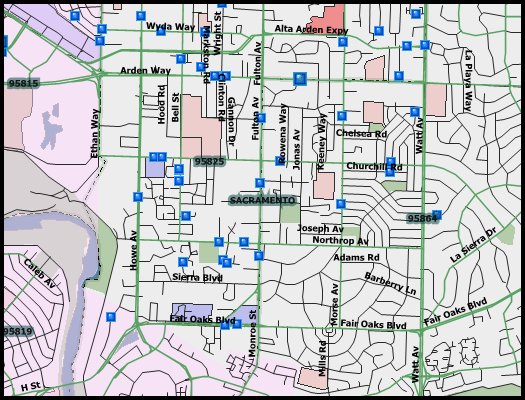 What is Megan's law?
Megan's Law is named after seven-year-old Megan Kanka, a New Jersey girl who was raped and killed by a known registered sex offender who had moved across the street from the family without their knowledge. In the wake of the tragedy, the Kankas sought to have local communities warned about sex offenders in the area. All states now have a form of Megan's Law.
California has required sex offenders to register with their local law enforcement agencies since 1947. California's Megan's Law provides the public with certain information on the whereabouts of sex offenders so that members of our local communities may protect themselves and their children.
Since 2004, the public has been able to view information on sex offenders required to register with local law enforcement under California's Megan's Law.
When looking for a new place to live, one of the things to be aware of is the sex offenders in the area. The sad fact is they are everywhere. The map is full of blue dots showing the location of sex offenders. You can click on a dot and get a photo with name and address of the sex offender.
To start a Megan's Law search, follow the simple steps or just go to http://www.meganslaw.ca.gov
The first step is the Megan's Law Disclaimer.  You must read and acknowledge the disclaimer at the bottom of page before it will let you see the list of registered sex offenders.
http://www.meganslaw.ca.gov/disclaimer.aspx?lang=ENGLISH
Then you simple select search options like zip code, city, address, name and county.
Facts about Sex Offenders on the Megan's Law web site have a few insights.
Most men who commit sexual offenses do not know their victim.
False. 90% of child victims know their offender, with almost half of the offenders being a family member. Of sexual assaults against people age 12 and up, approximately 80% of the victims know the offender.
Most child sexual abusers use physical force or threat to gain compliance from their victims.
False. In the majority of cases, abusers gain access to their victims through deception and enticement, seldom using force. Abuse typically occurs within a long-term, ongoing relationship between the offender and victim and escalates over time.
Most child sexual abusers find their victims by frequenting such places as schoolyards and playgrounds.
False. Most child sexual abusers offend against children whom they know and with whom they have established a relationship.
http://www.meganslaw.ca.gov/facts.aspx?lang=ENGLISH
The theme I see is the relationship of the sex offender and the victim. This is why it is a good idea to know who the sex offenders are and train your children to beware and not have a long term relationship.  This section is not pleasant reading, but it could give parents and children insights into safety skills around sex offenders.
It is good to check the Megan's list in the early stages of searching for a new home. It is good to check as you are getting ready to make an offer. And it is good to check two times a year or when you see someone new move into the neighbor. Because the sad fact is there could be no sex offender in 5 miles when you brought the house, but six months later one moves in across the street.